In 2019, Mayer was represented on Asia's largest horticultural fair, the Hortiflorexpo IPM Shanghai.  However, not only the stand and the number of visitors have grown there.
With the relocation to the world-famous Shanghai New International Expo Center, currently the second largest exhibition center in the People's Republic of China, the exhibition grounds have expanded significantly, therefore offering even more space for innovations in the fields of plants, horticulture, floristry and equipment.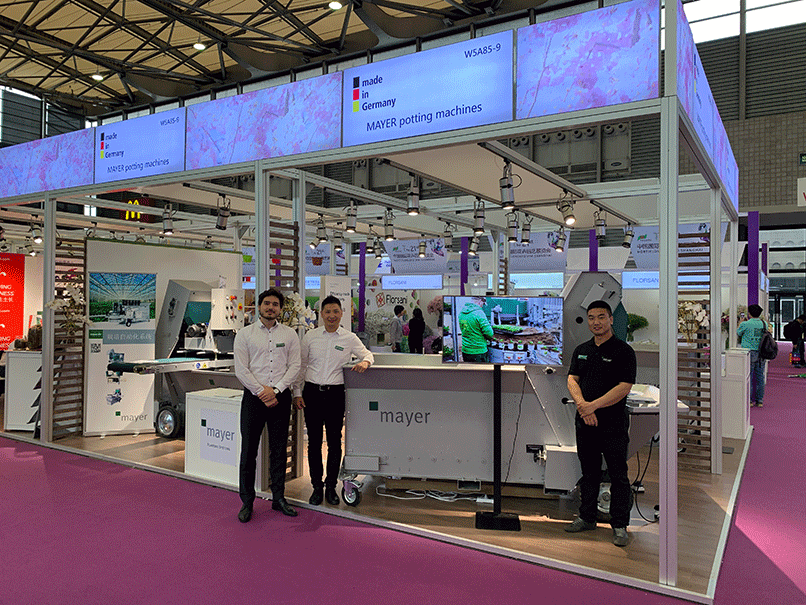 Together with our partner Pöppelmann TEKU, we attended the German joint stand this year to present Mayer automation solutions in the Asian market. This year's focus was on machines for filling. With the Mayer TM 1010F we presented the centerpiece of our portfolio. Their high reliability and the convenience of central adjustment and frequency converters have made them the absolute top sellers in our growth markets for years. At the same time, the TM 2018 could be examined as an entry-level machine. Due to its high flexibility, it scored above all with prospective customers, who work with different pot sizes and want to venture the quick entry into the semi-automation.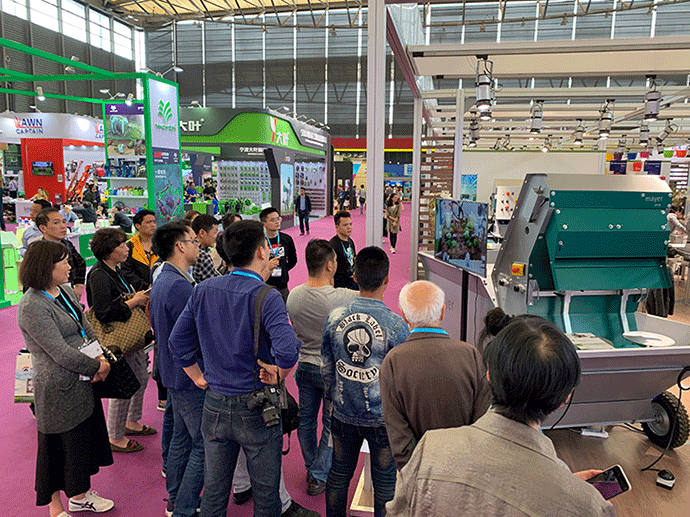 This year's IPM benefited from a significant increase in visitor numbers and a strong interest in automation solutions for horticulture. This development is caused mainly by steadily rising labor costs in China as well as significantly higher quality requirements of plants/products. We are pleased to meet both challenges with Mayer automation solutions. In addition, the number of visitors and interested parties from other Asian countries grew massively. Numerous gardeners from India, Japan, Taiwan and South Korea were represented. We left the IPM Shanghai with many positive discussions conducted.
As early as 2018, we took advantage of this positive trend on the Asian horticulture market to build even closer relationships with our customers in China. Since May 2018, we have been operating under the name Mayer Planting Systems (Nanjing) Co., Ltd. with its own sales company in Nanjing, thereby simplifying all business processes with our Chinese customers and partners. In addition, a Mayer service technician was employed in the summer of 2018, who will ensure the usual high Mayer service standards in China after several months of training in the European branches.
Feel free to contact us if you need assistance with small or large horticultural projects. We are happy to advise you on our extensive automation solutions.
Wir beraten Sie gerne persönlich!
Sie haben Fragen zu unserem Leistungsumfang? Kein Problem. Gerne beraten wir Sie persönlich oder erstellen Ihnen ein kostenfreies und unverbindliches Angebot.
Wir freuen uns auf Ihre Nachricht!