The MAYER BARK TOPPER RM 2120
- say goodbye to moss, weeds and pests!
Back in 2021, Germany announced a plan to phase out the use of glyphosate, a controversial herbicide and active ingredient in many weed killers, by the end of 2023. The decision was prompted by concerns about glyphosate's impact on the environment and human health. Glyphosate has been linked to the decline of pollinators such as bees, as well as biodiversity loss.
Germany had already imposed some restrictions on glyphosate use, including a ban on its use in public parks and a restriction on its use near water sources. However, the new plan calls for a complete phase-out of glyphosate use, except in cases where there are no viable alternatives.
This is when the Mayer bark topper RM 2120 comes into play! It is the ideal device for anyone who wants to protect their plants from moss, weeds and pests. It covers the pot surfaces with bark or similar material. Most spreading materials and a wide range of pot sizes and also pots with tall plants can be used.
Due to belts moving against each other, the pots are rotated around their own axis and transported through the machine. This ensures that the bark topper RM 2120 spreads the material evenly over the surface of the pot. Excess spreading material is returned directly to the machine hopper. Due to its high hourly output, the machine can also be integrated as a module in a production line with potting machines.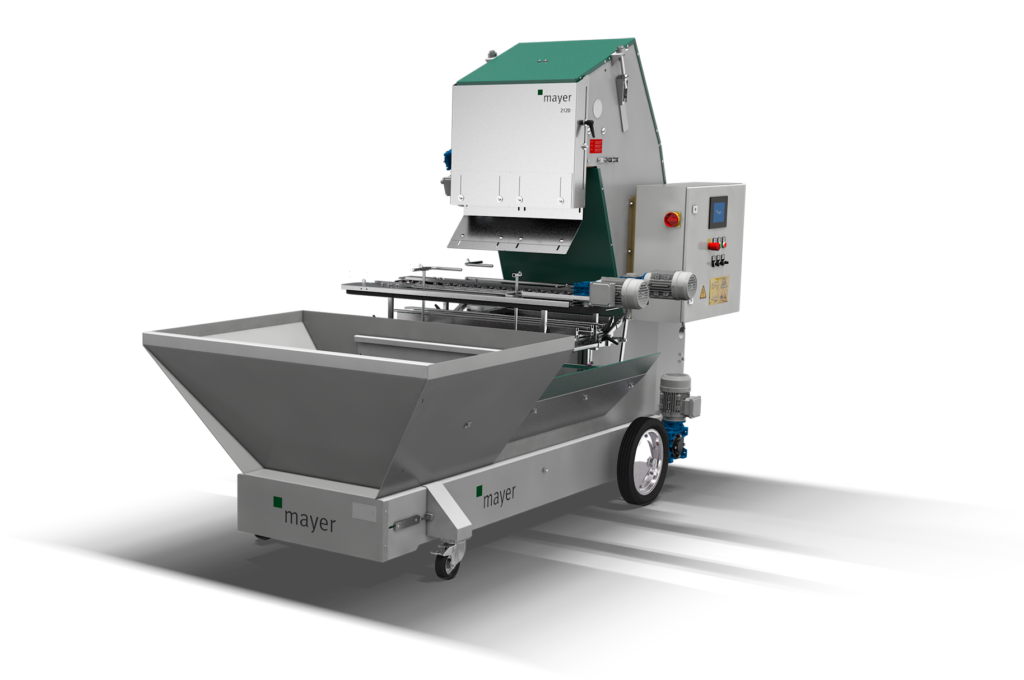 Advantages of the Mayer bark topper RM 2120 at a glance:
Strong reduction of moss and weed growth
Reduction of evaporation
Suitable for round and square pots
Right or left inlet of the pots into the scattering area can be configured
Rotation of the round pots as they pass through ensures even distribution of the spreading material
Excess spreading material is conveyed down by scrapers and falls back into the hopper
Can be used in combination with the most common spreading materials
All motors are frequency-controlled and can therefore be adapted to different pot sizes and types
Also suitable for pots with tall plants
Can be used in combination with a potting machine and/or before shipping
Spreading chute made of stainless steel for longer service life
Learn more about the
bark topper RM 2120 in our product video:
– up to 27 cm Ø
– up to 19 cm
edge length

Transportation dimensions
– up to 27 cm Ø
– up to 19 cm
edge length

Transportation dimensions
– up to
27 cm Ø
– up to 19 cm
edge length

Transportation dimensions