A high degree of flexibility and customized manufacturing processes are clear characteristics of a constantly changing manufacturing strategy. Industry 4.0 combines traditional production with efficient manufacturing processes and modern services. Production and administration go hand in hand. For us, this development means an uncompromising focus on quality with a simultaneous increase in cost efficiency and the highest possible adherence to delivery dates.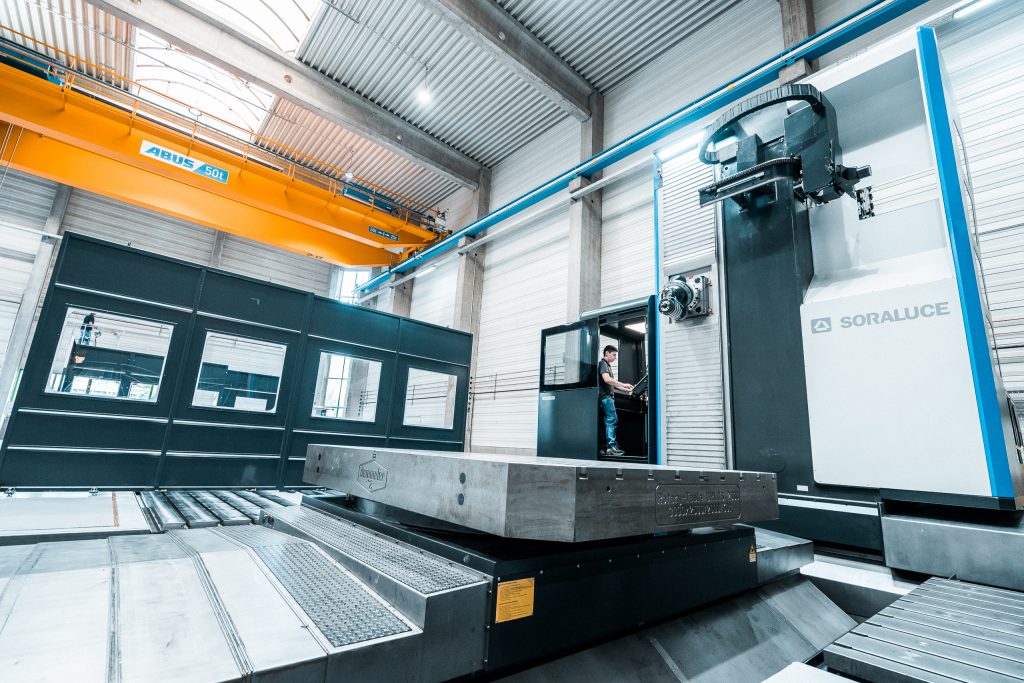 With us, the bundling of information is where it is needed. All our large processing machines are completely integrated into our network. The workstations of the programmers, the tool presetting and the large processing machines form a networked unit, which enables a permanent data exchange between the individual systems. A central data platform networks the entire production and standardizes the procedures without losing the transparency of the data processes. The tool storage management is provided by the company COSCOM. An information retrieval and exchange is possible at all processing machines and programming stations. With Infopoint at the processing machines, COSCOM provides the possibility to display all machining information such as clamping plans, production drawings, tool data and graphic machining cycles within the manufacturing processes directly at the machines, up-to-date and without time delay. An integrated tool tracking system enables all tools to be tracked exactly at their place of use, even while they are being provided at the machines. Fast access times enable safe handling. Even a minimum stock regulation is possible.
On July 1, 2019 the new BIMATEC SORALUCE moving column milling and drilling center FS 18000 was put into operation. As a pioneer of industrial digitalization, we position ourselves in the first row, because there is hardly any other contract manufacturer who offers such an individualization of the production process. The modular machine concept allows us to adapt exactly to our customers' needs. In order to guarantee this, among other things we have also increased our capacities with the installation of a new 5o ton ABUS overhead crane. Furthermore, a new state-of-the-art Zoller tool presetting device was put into operation.
However, the heart of the new production hall is the travelling column milling and drilling center FS 18000 of BIMATEC SORALUCE. It sets a new standard in modular, individualized production and performs milling work with an intelligent, ergonomic machine. With axis parameters of 18,000 mm x 4,2000 mm x 1,600 mm, even large and long components can be machined with high precision. The rotary-sliding table with hydrostatically mounted circular and linear axes allows 5-sided machining and thus offers an almost unlimited number of possibilities. Workpieces with a weight of up to 60 tons can be processed on it.
The built-in DAS+® vibration damping system from DANOBAT SORALUCE can detect vibrations by sensors in the approach and independently monitor and eliminate them by active elements. This innovative technology meets the highest standards and creates a smooth, optimal milling surface without vibrations. By reducing vibrations, the machine power is used one hundred percent and production time is reduced. In addition, the SSV function (Spindle Speed Variation) makes it possible to adjust the speed fully automatically and oscillating to the milling process. This ensures a continuous machining sequence and optimizes process stability.
The diagonal milling head allows a continuous grading. Its herringbone gearing serves to accommodate extensions and small additional heads and contributes to the high flexibility of the machine system. The diagonal head has a very slim design, which increases accessibility. A small distance between the spindle and the milling slide also means less leverage, which leads to higher stability. The diagonal milling head can be changed fully automatically and replaced by a horizontal milling head. Due to the initiated change machining and length of the machine, it is also possible to produce one component while the next one is already clamped again.
This new, intelligent machine concept enables astonishing improvements in ergonomics, dynamics, maintenance and safety during the production process. This is a clear step into the future, bringing digitalization to the industry.
If you would like to learn more about our services or have an individual inquiry, please contact us here.