With the newly developed Mayer Irrigation Tunnel WT 8000, we are taking a further step towards full automation of the entire planting process.
During transport from the potting machine to further internal logistics, the freshly planted round or square pots are watered with pinpoint accuracy on the conveyor belt in the irrigation tunnel. Thanks to light barriers and four adjustable water nozzles, maximum output and efficiency is achieved. The amount of water can be individually adjusted to your needs thanks to our innovative touchscreen control. 
Recycling and sustainability is a top priority for us. Therefore, due to the careful design, the water that is not absorbed by the plants is almost 100% collected and reused. 
It is worth highlighting the removable side panel, which greatly simplifies the cleaning of the machine. In addition, all contact surfaces are made of stainless steel. The chassis with lockable castors keeps your machine mobile and allows for easy handling. 
The optional Mayer conveyor belt is available in various lengths and widths. On request, we can customize the conveyor belt according to your requirements. 
The irrigation tunnel can easily be integrated as a module into a production line with potting machines.
You can get the Irrigation Tunnel WT 8000 (without conveyor belt) from a starting price of 3.800,00 €. You can find more details about the options in the machine configurator.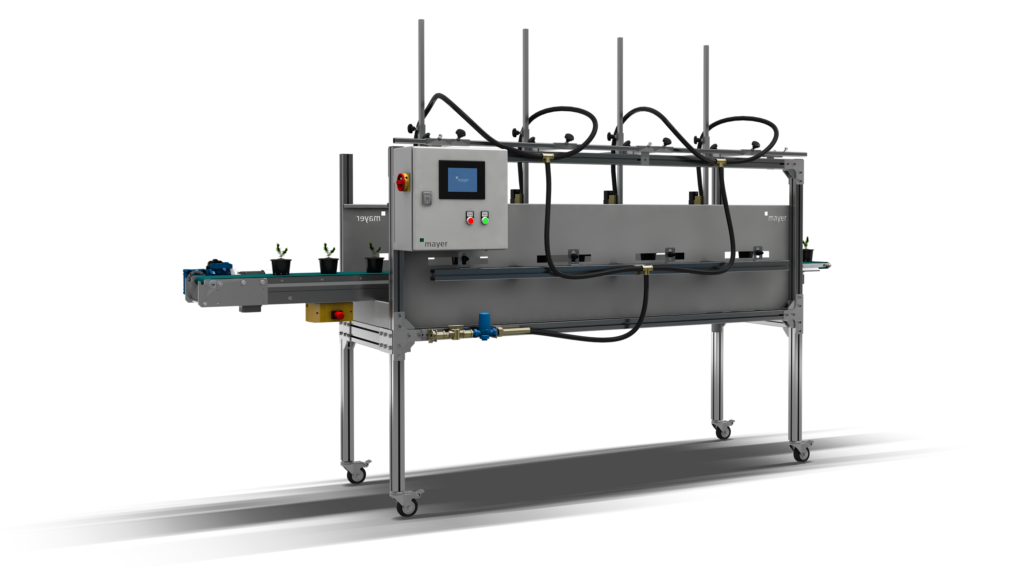 * Images include optional equipment
Advantages of the Mayer Irrigation Tunnel WT 8000 at a glance:
Irrigates round and square pots with pinpoint accuracy 
Almost 100% of the excess water is recycled
Stand-alone and/or combinable with other machines
4 nozzles and light barriers for pots
Water pressure is adjustable from 3 – 8 bar
Removable side panel for better cleaning
Mobility thanks to chassis with lockable castors
All contact surfaces made of stainless steel
Individual settings thanks to modern touch screen. 
The Irrigation Tunnel WT 8000 does not optimally fit your requirements?
No problem! We will be happy to advise you personally on our entire product portfolio.