Automation at Gartenbau Heufs
In the course of further automating its operation, our long-time partner Gartenbau Heufs has opted for the Domino Ax350i inkjet printer. Master gardener Christian Heufs and his wife Christiane have been running their parents' business in the Lower Rhine region for over 14 years. All plants at Gartenbau Heufs are cultivated as branded products, just like RockCollection® perennials, SunnyCollection® summer bloomers oder Beauty Ladies® callunas. The family business with 12,500 m² of heatable area under glass and foil and 80,000 m² of outdoor area employs over 30 people. They produce over 4 million pots a year – which is where the Domino Ax350i comes in handy.
Using precise inkjet printing technology, pots are printed fully automatically with the relevant plant passport and/or company logo. The printed EAN codes on the pots are checked directly after the printing process by our in-house developed camera system. Pots with faulty codes, which would not be scannable in future sales, are thus immediately reported and can be sorted out. All our Mayer machines and conveyor belts are designed to work with the Domino Ax350i, but it can also be seamlessly integrated into existing production lines from other manufacturers. For our customers, this means even greater efficiency, an expanded performance spectrum and even more options for ongoing operational automation.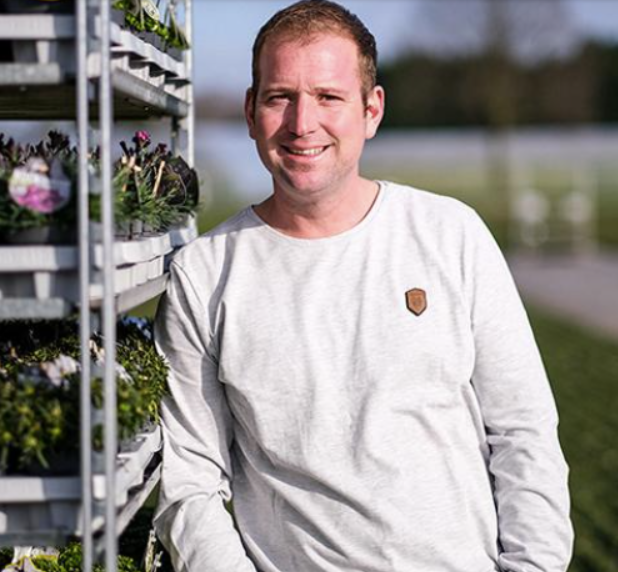 Christian Heufs, Management
Mr. Heufs, what prompted you to purchase such a printer?
"The sustainable elimination of adhesive labels on  Cyclos System certified plastic pots. Plus the flexibility with our many different crops. Varieties, colors, and other internal company data can be
printed flexibly and serve as information for our employees during production and marketing. Despite the high investment, after 6 months we decided to buy a 2nd Domino printer and switch the complete production to it."
Why did you choose Domino?
"The service team from Mayer Customer Center West is on site as a direct partner. Before the purchase, we did a test run and were very well advised. In addition, there was the flexibility in the desire for direct control of the EAN. Here Mayer offers a barcode scanner specially developed for this purpose, which is connected directly behind the printer."
How satisfied are you with the Domino printer after six months?
"Of course, one or two things had to be readjusted at the beginning, but that is normal with a new machine. After 6 months of operation, we are very satisfied with the Mayer service and with the machine."
Product video: Domino inkjet printer Ax350i:
You need a different machine to fit the requirements of your operation? No problem! We will be happy to advise you personally and free of charge on our entire product portfolio. Contact your Mayer representative or send us an e-mail to service@mayer.de. We look forward to your inquiry! 
We are available for you – by phone, e-mail and fax.
We support you with your individual project
We are happy to set up a video meeting for you via Microsoft Teams or Zoom 
Under exact observance of travel, contact and hygiene rules, we are also happy to come to you personally. 
To stay up to date on all things Mayer Planting Systems, follow us on our social media channels and subscribe to our newsletter.