Are you looking for a compact potting machine for your ornamental plant business? The revised Mayer TM 1610F combines the well-known strengths of the previous TM 1610 with even more comfort and user-friendliness.
The Mayer TM 1610 has been one of the most frequently used and best-known potting machines from Mayer for many years. Thanks to its flexibility with regard to the pot sizes that can be processed, its mobility and its compact dimensions, it offers the optimum prerequisites for use in ornamental plant businesses with an output of up to 500,000 pots per year.
Now we have improved this all-rounder even further for you.
The carousel of the new Mayer TM 1610F is now frequency-controlled as standard. This enables convenient speed regulation by means of a potentiometer. In addition, many other technical improvements have been made "under the hood" to make the TM 1610F even more reliable, durable and smooth-running. Of course, the new Mayer TM 1610F also offers a wide range of machine options and accessories to optimally match it to the requirements of your operation.
The basic package (with magazine and transfer) is available from a starting price of €12,870.00. Further details on the options can be found in the machine configurator. The delivery time depends on the current demand.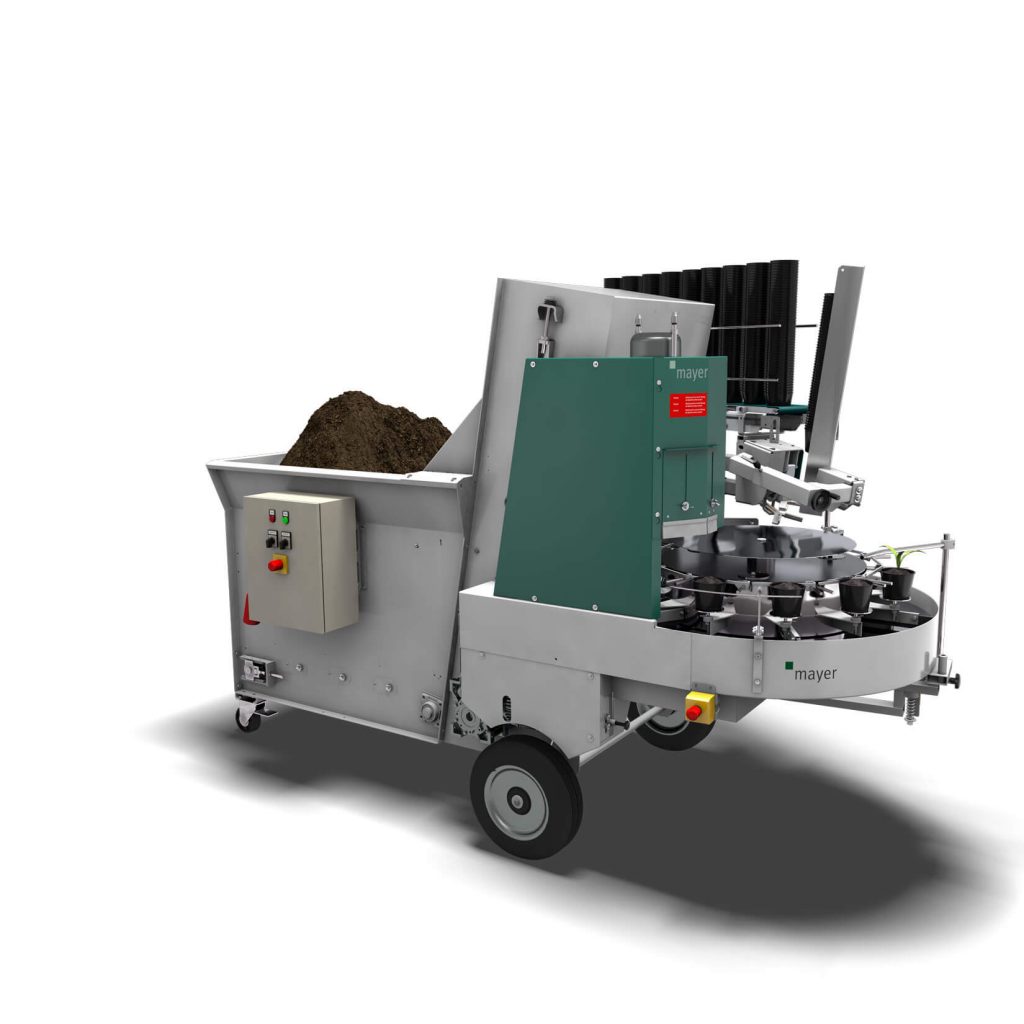 The advantages of the TM 1610F at a glance:
Compact, lightweight and mobile potting machine
Continuously adjustable elevator and carousel
Round pots from 5-21 cm, square pots from 6-14 cm
12 cycle-accurate pot positions for always centered pots
Up to 2,800 pots per hour
Structure-preserving substrate conveying
Flexible arrangement of the pot outlet
Significantly less wear than other models in this size range
Pot feeding belt, fertilizer dispenser, soil hopper extension and various conveyor belts available
Compatible with the most common automation systems
The Mayer TM 1610F does not optimally fit the requirements of your operation? No problem! We will be happy to advise you personally and free of charge on our entire product portfolio.